Help provide safe drinking water for remote schools

Host a gold coin donation free dress day during National Water Week (16-22 October 2023)

Do your part in helping deliver clean, safe drinking water to those who need it most
The Australian Water Association (AWA) is partnering with SOURCE Australia for National Water Week 2023 to help raise funds for the supply and installation of SOURCE® Hydropanels at schools located in remote communities that lack adequate supplies of fresh, safe drinking water and otherwise rely on plastic-bottled water supplies.
All you need to do is host a gold coin donation free dress day during National Water Week (16-22 October 2023) and funds collected across the country will go towards the purchase and installation of SOURCE® Hydropanels in schools where fresh drinking water is scarce.
What is a SOURCE® Hydropanel?
SOURCE® Hydropanels are an innovative water technology that use solar power to extract pure drinking water from the air, with no need for any existing electrical or piping infrastructure. They make premium-quality drinking water a readily available renewable resource, even in the most isolated locations.
Find out more information on how the panels work here.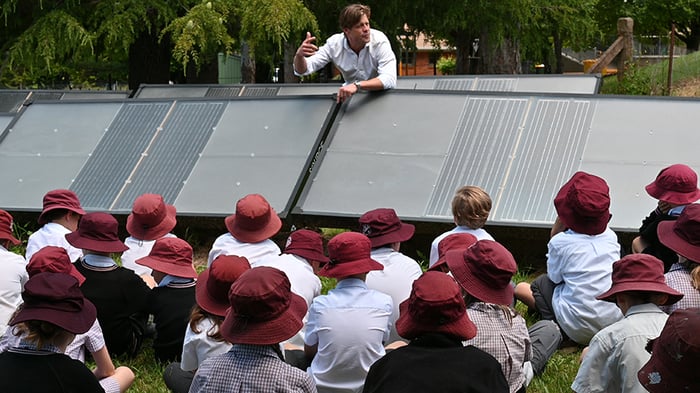 Where will the funds go?
All funds raised will contribute toward installing Hydropanel arrays at the remote schools in need of high-quality drinking water access.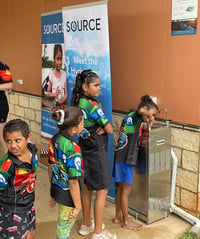 This year funds will go toward installing a system at Purnululu Aboriginal Independent Community School (PAICS) in the East Kimberley region of Western Australia, which is part of the Wurrenranginy Community (Frog Hollow). The school currently relies on plastic bottles and brackish bore water for drinking.
The installation of Hydropanels at this remote school will ensure students and the broader community can access high-quality, safe, reliable drinking water for the next 15 years.
Read about Valkyrie State School, a remote school located south-west of Mackay who, until recently, have gone without safe drinking water for almost 50 years. ABC news ran a story on the school, following the installation of 15 SOURCE® Hydropanels that now provide a reliable and refreshing drink of water for students and staff. You can also watch the video below to find out more.


Depositing Fundraising and school receipts
Schools can deposit raised funds directly into the AWA bank account, using the reference "NWW Fundraising" and send an email to accounts@awa.asn.au advising the date of transfer and amount. We will then issue you a receipt.
You can find the AWA banking details here.
If you have any queries, please contact Jenny Hiller, Content & Education Lead at jhiller@awa.asn.au or phone (02) 9467 8418.